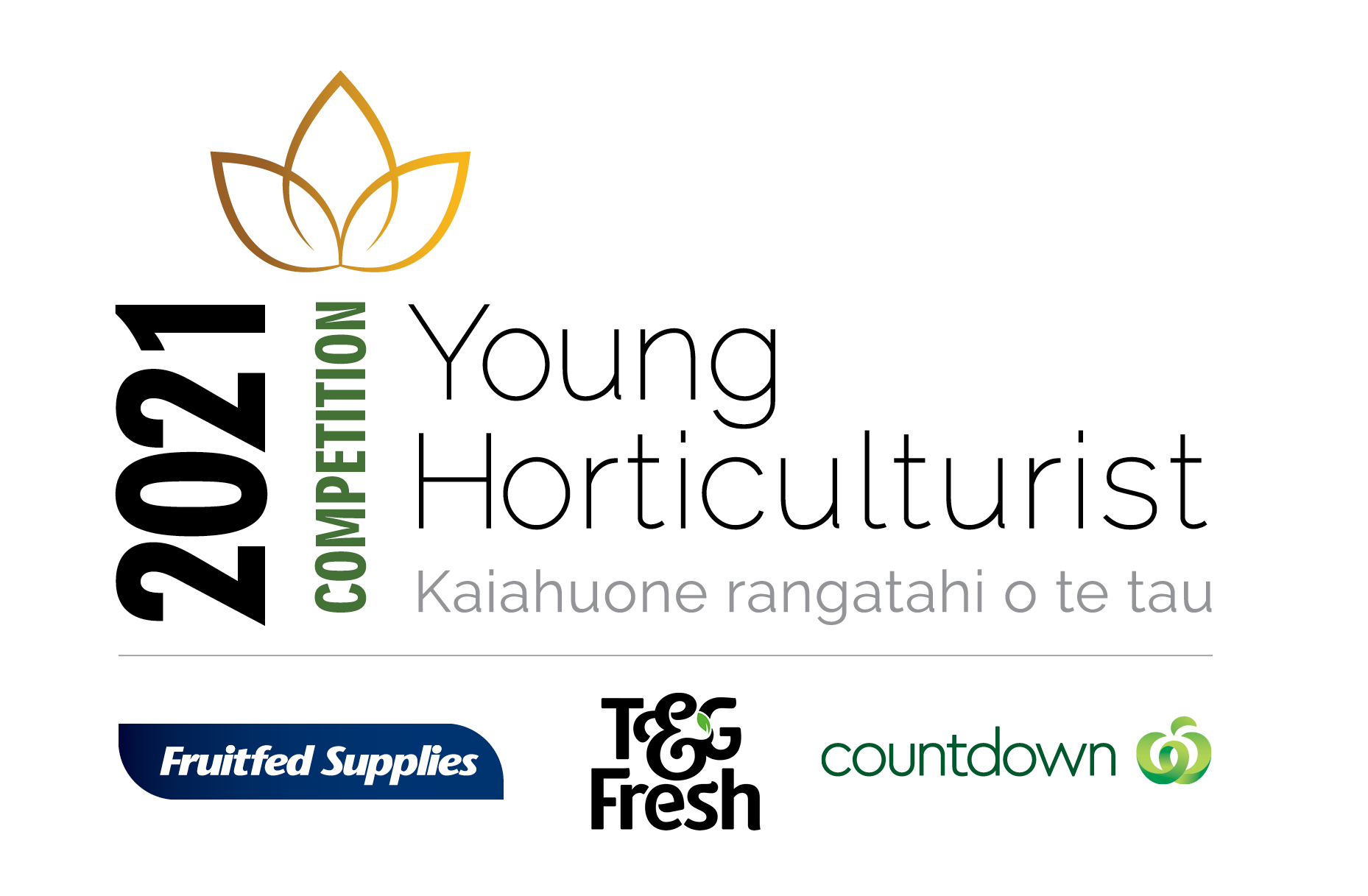 Welcome to our June Newsletter
The 2021 Young Horticulturist Competition
The Royal NZ Institute of Horticulture Education Trust are pleased to announce the launch of the 2021 Young Horticulturist Competition, where we will also be celebrating our 16th year. Due to Covid 2020 we did not end up holding our 2020 Competition however are geared up and ready for a successful 2021.
The Grand Final dates are set for:
Day 1: Wednesday 3rd November Practical Components Day at New Zealand Bloodstock Centre, Karaka, Auckland
Day 2: Thursday 4th November Business Components Day at New Zealand Bloodstock Centre, Karaka, Auckland
2021 Young Horticulturist Competition Awards Dinner:
Thursday 4th November at New Zealand Bloodstock Centre, Karaka, Auckland
Professional Development Day
We have recently just held our 2021 Professional development Day (previously known as the Young Leaders Forum) on the 13th May 2021 at the Auckland Botanic Gardens. In the past this has been a 2-day event however this year we engaged our 2019 finalists in an action packed 1 day event.
The day consisted of Belbin Leadership Training, Leadership Solutions, Primary ITO (experience in the field, opportunities), guided tour of Auckland Botanic Gardens, networking and socializing with past finalists.
Orientation Day:
This is the launch for the 2021 Competition for the 2021 finalists. We look forward to welcoming our 2021 finalists at the Orientation Day which will be held on the 8thSeptember 2021 and will be held at the Auckland Botanic Gardens.
Welcome to our New Trustees
We are very excited to announce and welcome new Trustee Members to the RNZIH Education Trust; Jo Guy, Shaun Trevan (Vice Chair) & Chris Thompson.
We have also appointed Hamish Gates as the new Chair, as we farewelled Elle Anderson after 5 years of voluntary service at the last AGM.
New Website:
Our new website is now up and running thanks to Razor Web Design and Peter Kraan and it is looking great! Be sure to check it out for the latest information and details.
New Sector
We are thrilled to announce our 7th sector to the Competition. The New Arb finalist will join us this year, thank you to all that made this happen.
Thank you to our Community of Supporters for 2021
The Royal NZ Institute of Horticulture Education Trust would like to sincerely thank the following companies for their continued support and we are looking forward to working with this year.
Young Horticulturist Competition Official Partners: T&G Fresh, Fruitfed Supplies, Countdown.
Young Horticulturist Competition Supporters: Bayer New Zealand, Primary ITO, Trillian Trust, Horticentre Charitable Trust.
Young Horticulturist Competition Affiliated Supporters: Massey University, ICL Specialty Fertilisers, Norwood Industries, NZ Wine, Safeworx, Horticulture NZ, ANZ.
Friends to the Competition: Cornwall Park Trust, Kiwiflora, Royal NZ Institute of Horticulture, NZIHAS, Aorangi Merchants, Auckland Botanic Gardens, Bev McConnell, Hill Laboratories, NZ Gardener, Biostart, Outback, Roots Shoots & Fruits, Watties, Villa Maria, Bahco, Luijten Landscapes, Hort News, Manukau Institute of Technology.
NZ Winegrowers Regional Competitions
Auckland/Northland – Thursday 3rd June - Goldie Estate
Hawke's Bay – Thursday 10thJune - Paritua
Wairarapa – Thursday 17thJune – Luna Estate
Marlborough – Thursday 1stJuly - Giesen
N. Canterbury – Thursday 8thJuly - Greystone
Central Otago – Thursday 15thJuly – Central Polytechnic Bannockburn
The NZ Winegrowers National Final will take place on Wednesday 25th & Thursday 26thAugust 2021, in Marlborough venue TBC.
NZ New Arborist Of The Year Competitions
Congratulations to Martin Manea who will represent the NZ New Arborist for our 2021 Young Horticulturist of the Year event.
The New Arb event is being planned currently for November 2021. The finalist will be nominated for our Young Horticulturist of the Year, 2022 Final.
Region:
Waikato/Bay of Plenty - (completed - 2 winners announced)
Wellington - (completed - 2 winners announced)
South Island – Saturday 18th & Sunday 19th September - Christchurch Venue TBD
Auckland – Saturday 9th & Sunday 10th October - Auckland Venue TBD
The NZ Arb National Final will take place on Saturday 27th & Sunday 28thNovember 2021, in Wellington Venue TBD.
NZ Young Fruit & Vegetable Grower Competitions
Pukekohe – Friday 7th May 2021
Central Otago – Friday 21st May 2021
Hawkes Bay – Thursday 3rd & Friday 4th June 2021
Nelson - Friday 2nd July 2021
Gisborne – Thursday 8th July 2021
Bay of Plenty – Thursday 22nd July 2021
The Young Grower of The Year Final Wednesday 22nd and Thursday 23rdSeptember 2021 Wellington
NZPPI Young Achiever Competitions
The Young Achiever of the Year Final Wednesday 14th & Thursday 15thJuly 2021, Growing Spectrum, Hamilton
NZ Young Amenity Horticulturist of the Year Competitions
We will provide more information in the next newsletter on this section.
NZ Young Landscaper Of The Year Competition
Congratulations to Tama Ritter who will represent the Young Landscaper this year.
Floristry NZ & NZ Flower Growers Inc. Competitions
Congratulations to Rudrik Tripathi who will represent Florist NZ Incorporated (Flonzi).
Event Manager Update
Hayley Govorko and her team have been busy researching venues for 2021, as well as working with the RNZIH Education Trust members to look at exciting new ideas for the 2021 Competition.
The team have also been contacting supporters of the event and past ALUMNI to check in and ensure they are safe and well. Everyone is really looking forward to the Competition in 2021 and we will have more information in our next Newsletter.
To support the Competition, the RNZIH Education Trust welcomes any donations to assist this important and very worthwhile initiative, in the Horticulture Industry. Donations will assist with the costs to run the Competition each year. Individuals or companies interested in supporting the Competition please contact Hayley.
Posts of photos, videos and news regarding our finalists is being promoted on the Young Hort Facebook page and through Instagram on a regular basis.
Please visit and follow our page for updates on www.facebook.com/YoungHortNZ
You can contact Hayley and the team anytime on: event.manager@younghort.co.nz or (09) 2947129 or (027) 2100736
The Competition is managed by the Royal NZ Institute of Horticulture Education Trust.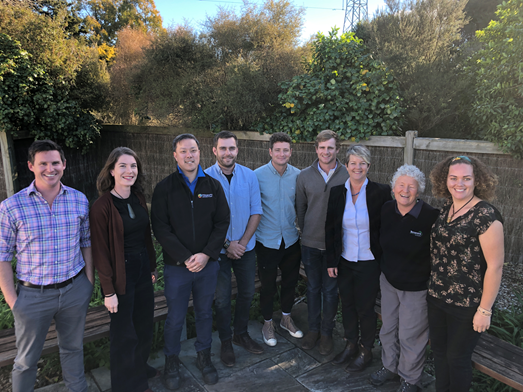 Professional Development Day 13th May 2021 – with 2019 Finalists
(Left to right; Hamish Gates - Chair, Anika Jackson, Daniel Chong - Primary ITO, Simon Gourley, Rico Mannall, George Trower, Nicola Rochester - Trust Member, Ingrid Ennis - Trust Member & Jessie Wakeling)