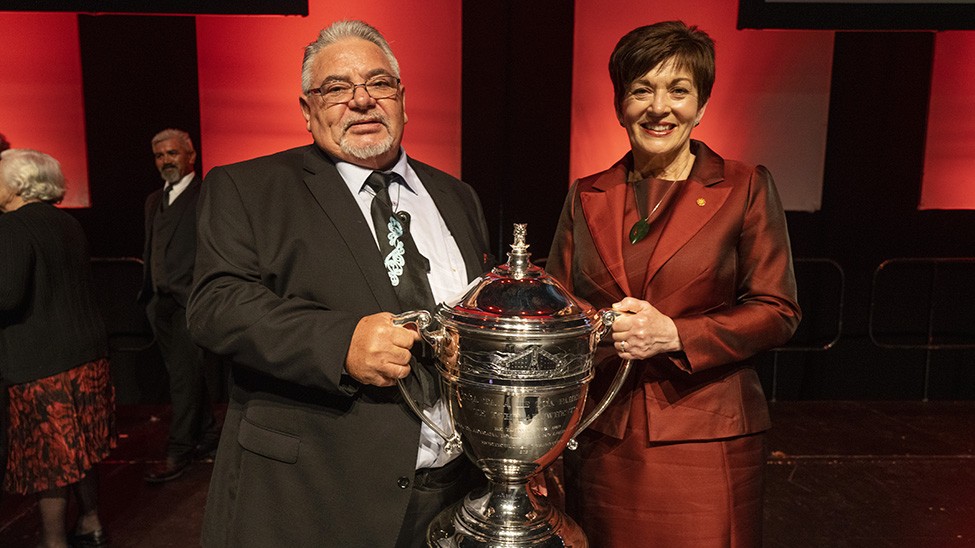 The winner of the inaugural Ahuwhenua Trophy Excellence in Māori Horticulture Award 2020 is Te Kaha 15B Hineora Orchard.
Hineora Orchard is a Māori freehold land block located in the Eastern Bay of Plenty township of Te Kaha, 65km east of Ōpōtiki.
The announcement was made on 20 November by Her Excellency, the Rt Hon. Dame Patsy Reddy at a special awards function in Rotorua attended by 750 people, including Ministers, other politicians and dignitaries, agribusiness leaders and whānau.
The two other finalists were Otama Marere in Paengaroa near the Bay of Plenty town of Te Puke, who grow a mixture of Green, SunGold and organic kiwifruit as well as avocados; and Ngāi Tukairangi Trust, which is very large kiwifruit operation with one of its orchards based at Matapihi, just a few kilometres from the centre of Tauranga city.
Dame Patsy presented the Ahuwhenua Trophy to Norm Carter, the Chairman of Hineroa Orchard, while Ahuwhenua Trustees the Hon Willie Jackson, Hon Damien O'Connor and Dave Samuels presented the replica trophy, as well as winners medal, historic certificate and cash prize to the Trust.
''I'd like to congratulate Norm Carter and the Te Kaha 15B team, as well as all the finalists. The awards function was a powerful statement about Māori commitment to the whenua (land) and horticulture,' said HortNZ President, Barry O'Neil.
'Every finalist had something to say about the importance of the whenua, their struggle to take back control and develop profitable horticulture businesses.
'These horticulture ventures epitomise the Maori concept of Kaitiakitanga (guardianship). They have become assets of which the whole iwi is proud and shares in, providing employment and careers now and for future generations.
'Horticulture New Zealand was privileged to be a sponsor of the inaugural awards. We look forward to continuing our support of Māori horticulture. In 2023, it would be great to be overwhelmed by deserving entries from across the fast-developing Māori horticulture sector.'
Te Kaha 15B, Hineora Orchard comprises of 11.5 hectares, on which the Trust runs a kiwifruit joint venture operation, a commercial pack-house facility housing the local kiwifruit spray company (in which the Trust holds shares), and a four-bedroom home for accommodation at the block. Prior to the Trust's creation in 1970, the land was largely occupied by different whānau who farmed the block maintaining a subsistence living growing a range of fruit and vegetables for the local community.
Kingi Smiler, Chairman of the Ahuwhenua Trophy Management Committee said Te Kaha 15 B Hineora Orchard was a worthy winner of the trophy.
'The Trustees have shown great vision, persistence and resilience to establish their operation and to achieve some impressive results. Their operation, like the other finalists, is something that must make their whānau feel proud of their efforts,' he said.
'This is the first time in the 87-year history of the competition that the trophy has been open to Māori horticulturalists and says this is not before time. Māori are significant players in the horticultural sector and we must recognise their contribution to the New Zealand economy.'