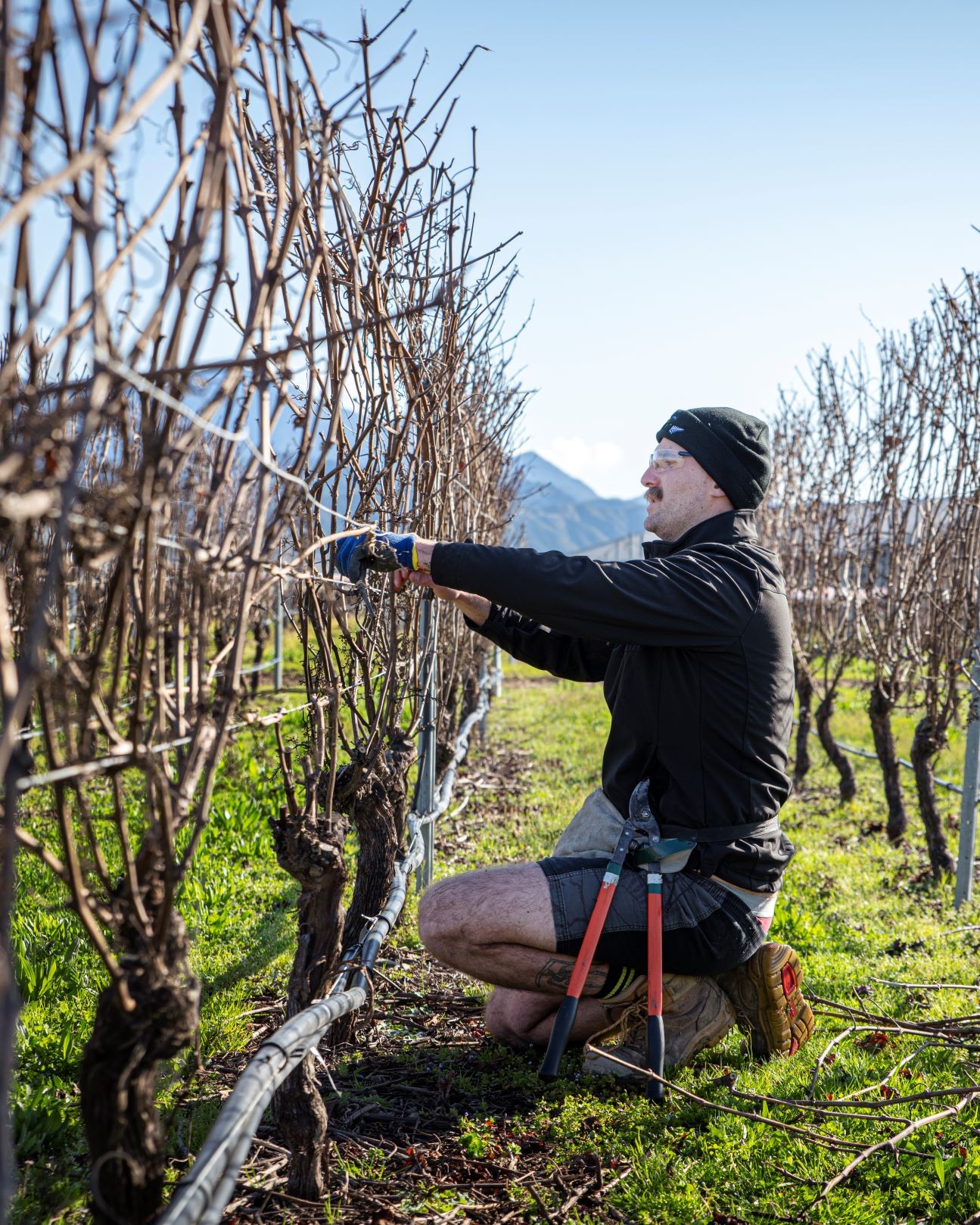 A Blenheim viticulturist has been selected to represent the NZ Winegrowers sector at this year's Young Horticulturist of the Year Competition.
Indevin Grower Relations Partner Tahryn Mason will face representatives from six other horticultural sectors at the competition's final in Auckland during November 7,8.
Tahryn is the third Indevin employee in recent years selected to battle it out at the Young Horticulturist of the Year (Kaiahuone rangatahi o te tau) final. He follows in the footsteps of Sam Bain who finished second last year, and Rhys Hall who, in 2021, won the coveted Young Horticulturist title. Both remain with Indevin – Sam as Springhill Vineyard Manager in Central Hawkes Bay, and Rhys as Group Technical Viticulturist in Marlborough.
Tahryn's path to the Young Horticulturist finals started with a summer job at Villa Maria in Auckland back in tertiary education student days.
"I was putting bird netting on over the grapes pre harvest, and then removing them, never expecting that would lead anywhere. That was my first taste of the industry," he shares.

The taste was obviously appealing as he returned while studying (mainly social policy) moving on to start assisting with the harvest, and tackling a little pruning work, and then deciding there may be "something of a career in viticulture".
A vineyard assistant job came first, then an operational role.
"I was quickly exposed to the breadth of the industry, especially as there was a wine making team on site at Villa Maria too. Working at Villa Maria – a meticulously managed, high-end boutique vineyard – offered a quick introduction into the fine arts of viticulture."
New challenges and increasing responsibilities suited Tahryn just fine. In 2020 he was talking job opportunities with Villa Maria in Marlborough, appreciating the large difference in scale between Auckland and the larger Marlborough operations. A job as a machinery operator in the vineyards was followed the next year with a supervisor's position. When Indevine purchased the Villa Maria brand in 2021 he carried over. Further promotion, to his current role, followed after he won the National Young Viticulturist of the Year competition last year.
Tahryn is no stranger to competition. He has competed three times at the Young Viticulturist Competition, honing his skills to achieve last year's big win. Now he's giving back – as a member of Marlborough's Young Viticulturists' regional committee.
Tahryn says his role as Grower Relations Partner rounds out his professional development.
"I wanted to apply the knowledge I have gained, and I enjoy working with growers.
"My real passions in the industry are wine and viticulture education and grower liaison. I enjoy my current relationship role, helping growers get the best out of their sites and achieving the goals they have for their vineyards. The job also involves helping contract growers and the companies they work for maintain overarching goals of the industry itself around quality and meeting export targets.
"We want to make sure we are as popular as we can be in as many markets as we can be."
Tahryn is also tasked with working with the wine-making team to ensure grower blocks are progressing throughout the season to meet targets. Offering technical advice and support around pests, diseases and nutrition; and helping growers secure contract labour is also part of the job.
Dedicating time to the Young Horticulturist Competition is an exciting opportunity Tahryn says he's grateful for.
In November, Tahryn will compete against finalists from the NZ Young Horticulturist Competition's other sectors. The sectors are: Young Grower of the Year (Horticulture New Zealand Fruit & Vegetable Sectors); Young Amenity Horticulturist (New Zealand Recreation Association); Young Plant Producer of the Year (New Zealand Plant Producers incorporated); Young Landscaper of the Year (Registered Master Landscapers New Zealand); New Arborist (New Zealand Arboriculture Association Inc); Young Florist/Flower Grower (FLONZI Florists and Flower Growers NZ Incorporated) and Young Viticulturist of the Year (New Zealand Winegrowers);
When not working or competing there's time for wine drinking. Tahryn's partial to reds at this time of the year. He loves a Marlborough Pinot noir and is a big fan of Syrah and Grenache varietals. The latter is a "very under-appreciated variety" in New Zealand, he says.
"As for summer drinking, it's Sauvignon town all day, every day."
The Young Horticulturist Competition's Official Partners are: Countdown, Fruitfed Supplies and T&G Fresh.