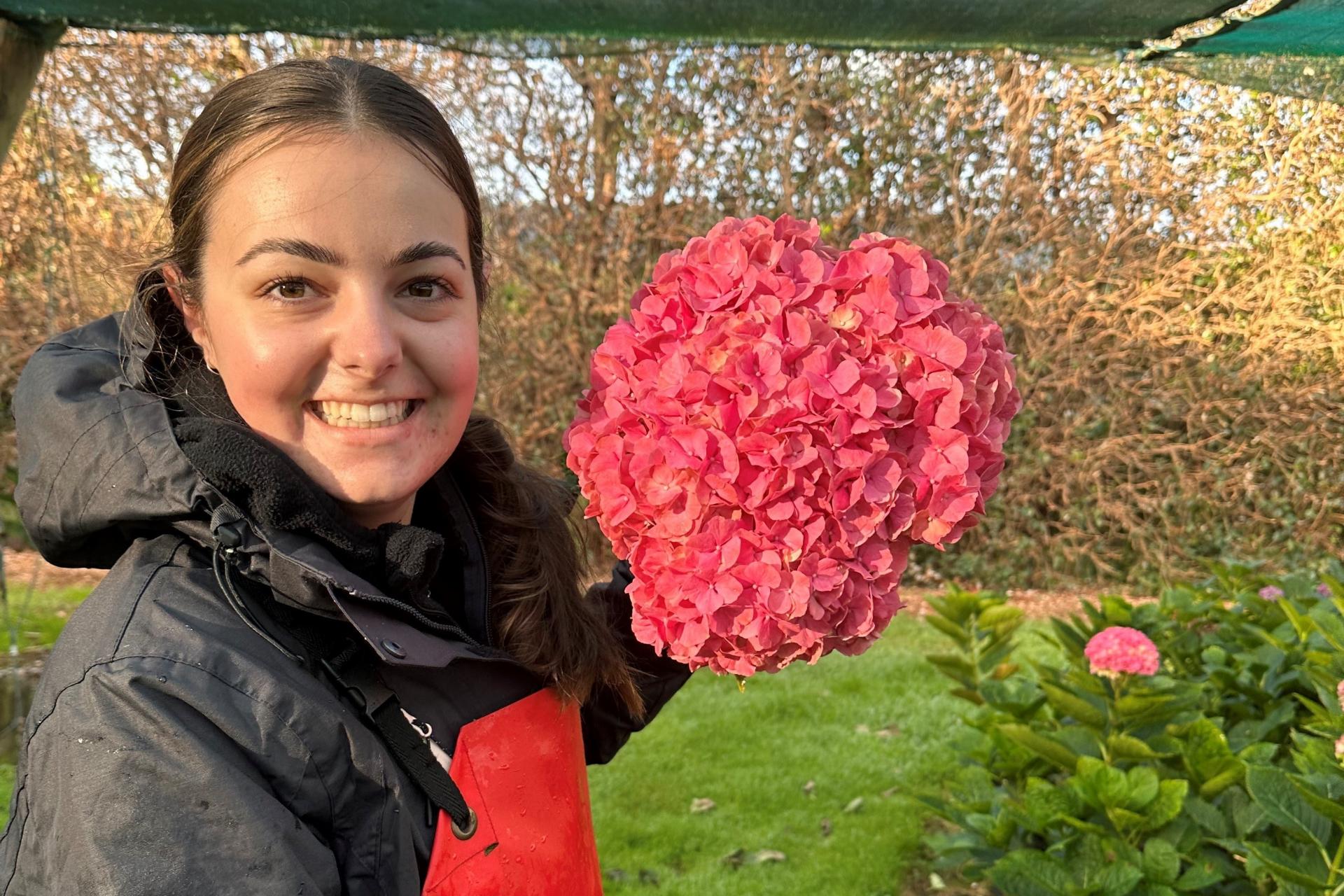 A twenty-four-year-old Tauranga woman, with a love for hydrangeas, has won NZ's Young Florist and Flower Grower of the Year competition.
Samantha (Sam) Searle, and her partner James, own and run Te Puna Blooms, a business dedicated to hydrangea plants available for domestic and international markets.
Sam's win follows a two-day competition in Christchurch late last week. She will now go on to represent her industry (Florist and Flower Growers NZ Incorporated) at the New Zealand Young Horticulturist of the Year grand final in Auckland during November 7,8.
During last week's competition, which was held at Lincoln University, competitors were judged over six categories. These involved: an innovation project; leadership assessment; advanced computer skills; and flowers, foliage and potted plant knowledge. A sustainability interview and speech making were also part of the assessment. Contestants were tasked with presenting a three-minute speech on whether new, current flower trends are a sustainable and commercially viable crop for the NZ flower growers to meet customer demand.
Te Puna blooms is NZ's largest hydrangea farm selling blooms and little plant propagations. It has been running for more than 20 years, in later years offering Sam holiday employment during her university studies. She moved up the ladder to take on the role of manager at the end of 2021 and then took over ownership in October last year. About 6,000 hydrangea plants of 15 different varieties are grown on the land she and James lease from the business' former owners Lisa Steiner and Phil Deadman.
Export is through brokers and there's big nation-wide demand, with Sam's hydrangeas sent to United Flower Growers' auction house. She also supplies supermarkets through Fresh Direct in NZ and has local florists who come directly to her. Exports – larger prior to the Covid pandemic – now stand at about 35 percent of the business with that number growing each year since 2020.
Taking over ownership of this floral enterprise was initially "a big and scary thing", Sam tells.
"But I am so glad we did it. I love it.
"When people see the size and scale of the hydrangea farm, and the beauty too, they are like 'wow' and impressed I am managing it at my age. But I have great support around me, including from Lisa and Phil who are great mentors," she tells.
Sam's involvement is very hands on. In the peak season there are 10 people working the farm and Sam's business psychology studies help with managing staff.
"I always wanted to go into Human Resources and feel my studies have helped in terms of being an employer," she explains.

"My job involves tending the plants, managing staff, markets and the books. James does all the fertigation, maintenance, and spraying. He's overall handy-man on top of a 40-hour a week job as a mechanic."
Sam's average day during the peak season involves picking flowers between 7am and 11am (after that it's too hot), bringing them into the packing shed, processing them, and then storing them in the chiller ready to be sent off the next day. Off season work is pruning focused, which takes about two months and is usually completed by the end of July. It's a manual task as whether plants are pruned back to two nodes or two best buds depends on individual hydrangea varieties.
While Sam never thought she would end up co-owning a flower growing business, her love of hydrangeas was never in doubt. They've flourished in both her grandmother's and mother's gardens, so exposure came at an early age.
These days her favourite varieties (she grows them both) are Lilac Irene, which is a pastel purple, and the Pink Soft Holstien, which can grow as large as dinner plates.
White and pink hydrangeas are the biggest sellers, with White Swan the most popular overall, especially for weddings and to mark Mother's Day and Valentine's Day.
As for the future, Sam's looking forward to representing her sector at the NZ Young Horticulturist Competition and to expanding her business. She would love to own some land and while hydrangeas will always remain supreme, there's possibly room for another favourite bloom. Sam has a dahlia collection propagating and is keen to expand that one day.
Also competing at the florist and flower grower event last week were Sarah Ewe from Auckland who finished in second place, Brittany Cruikshank from Christchurch, and Olivia Clarke from Invercargill.
Meanwhile, In November, Sam will compete against finalists from the NZ Young Horticulturist Competition's other sectors. The sectors are: Young Grower of the Year (Horticulture New Zealand Fruit & Vegetable Sectors); Young Amenity Horticulturist (New Zealand Recreation Association); Young Plant Producer of the Year (New Zealand Plant Producers incorporated); Young Landscaper of the Year (Registered Master Landscapers New Zealand); Young Viticulturist of the Year (New Zealand Winegrowers); New Arborist (New Zealand Arboriculture Association Inc); and Young Florist/Flower Grower (FLONZI Florists and Flower Growers NZ Incorporated).
Last year's winner was Regan Judd, a Napier orchard sector manager; with viticulturist, Sam Bain in second place.
The competition's official partners are: Countdown, Fruitfed Supplies and T&G Fresh.