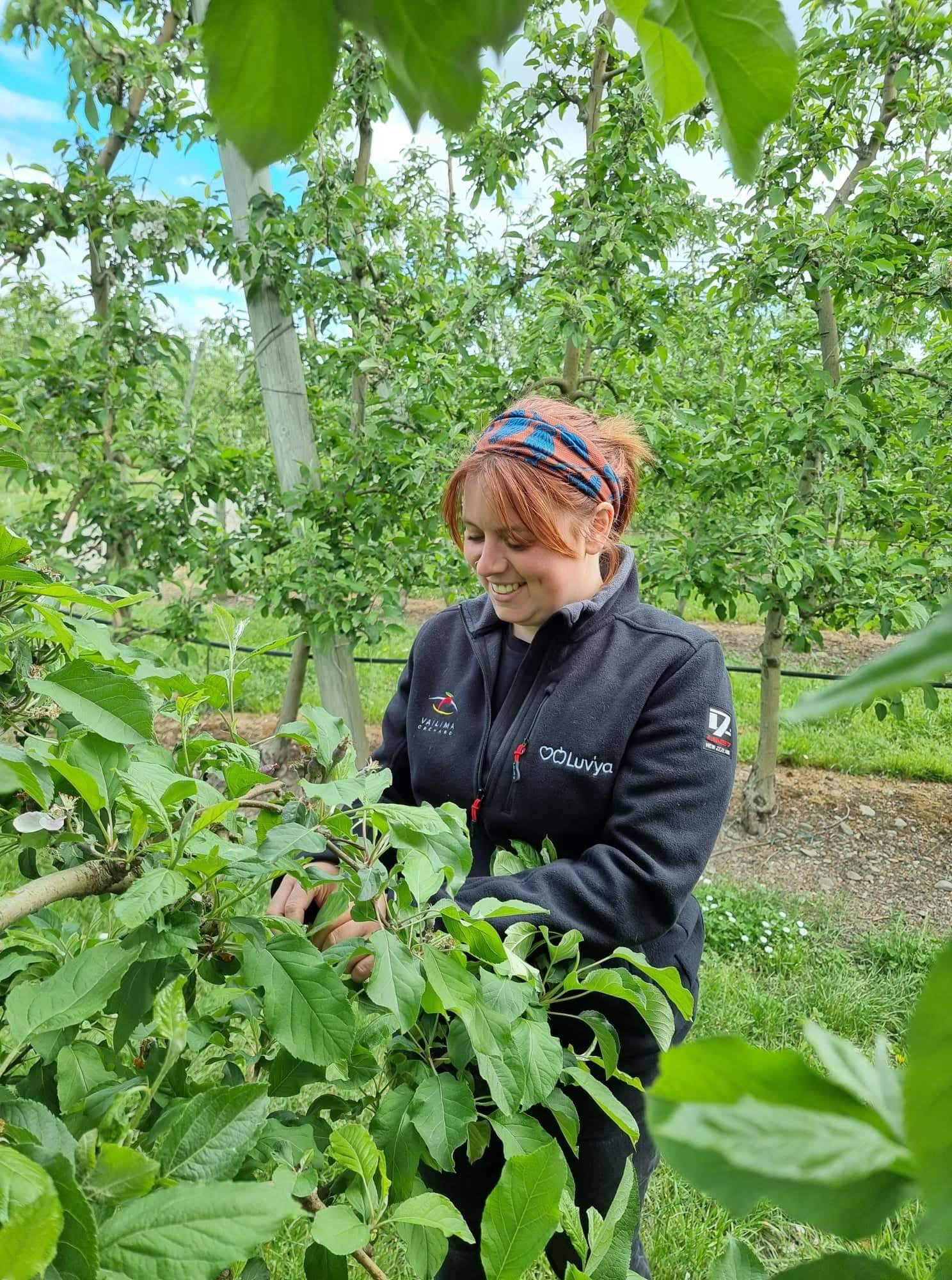 Marlborough's chances of bringing home the coveted Young Horticulturist of the Year title have just doubled, thanks to orchardist Meryn Whitehead.
Meryn, who is a team co-ordinator at Vailima Orchard, has been selected to compete at the NZ Young Horticulturist of the Year competition finals in Auckland over November 7,8. She will be joined at the finals by Blenheim viticulturist and Indevin Grower Relations Partner Tahryn Mason, representing the NZ Winegrowers sector.
Meryn's selection comes after she took out the National Young Grower of the Year title last year; Tahryn's after winning the 2022 Young Viticulturist title. Both have just been announced as their horticultural sectors' representatives. The two will face competition coming from five other horticultural sectors.
The event's sectors are Young Grower of the Year (Horticulture New Zealand Fruit & Vegetable Sectors) and Young Viticulturist of the Year (New Zealand Winegrowers) as well as: Young Amenity Horticulturist (New Zealand Recreation Association); Young Plant Producer of the Year (New Zealand Plant Producers incorporated); Young Landscaper of the Year (Registered Master Landscapers New Zealand); New Arborist (New Zealand Arboriculture Association Inc); and Young Florist/Flower Grower (FLONZI Florists and Flower Growers NZ Incorporated).
Meryn says becoming an orchardist was never a clear-cut career decision. She'd always figured she wanted to work outdoors, but it took a trip across the world to New Zealand to clarify what that would look like.
"After leaving university in Wales I decided to come travelling before beginning a career. I reached New Zealand and did some seasonal work on a small-scale stone fruit orchard in Hastings and enjoyed it so much I went back the next summer.
"In my travels around New Zealand between these two seasons I met a Kiwi and decided to give NZ a bit more of my time than originally planned. That was eight years ago," she laughs.
Meryn says while she very much stumbled into orchard work she's found it ticks a lot of her desired career boxes.
"There is variety, and the opportunity to work outside on those lovely sunny days (and some rainy ones). There are chances to move within the industry, and there are jobs which require a huge variety of skills. Life is rarely boring on an orchard. There's something to appreciate every day."
She's been based for three years at Vailima Orchard – a fourth-generation, family-owned business with more than 200 hectares of apple orchards stretching over the Tasman District's Waimea plains. Pruning, spraying and tractor work initially kept her busy and a supervisory role soon followed. She continued to supervise for a few years until the harvest season just gone, when she was promoted to team coordinator.
"I've always been active and love that this job lets me get out and about with the practical side of things, but also love the office work I do, whether that's organising teams, or coming up with ways to make work more efficient, and easier for our staff," Meryn enthuses.
She enjoys the variety and especially relishes the opportunity to encourage newer or younger staff member to push themselves, and to find the area of the business which they really enjoy.
Meryn's family would arguably say she's ended up where she needs to be. All – at one point or another – have been involved in horticulture. Her younger sister, for example, recently acquired an apprenticeship at the National Botanic Gardens of Wales, and her father manages a National Trust estate. Her mother has a flourishing garden and regularly shares her knowledge with her daughter who thrives in the Southern Hemisphere.
It looks as if that's where she plans to stay.
"I believe horticulture has so much to offer, and I certainly want to continue to be a part of New Zealand's growing horticulture industry," Meryn asserts.
Tahryn meanwhile is the third Indevin employee in recent years selected to battle it out at the Young Horticulturist of the Year final. He follows in the footsteps of Sam Bain who finished second last year, and Rhys Hall who, in 2021, won the coveted Young Horticulturist title. Both remain with Indevin – Sam as Springhill Vineyard Manager in Central Hawkes Bay, and Rhys as Group Technical Viticulturist in Marlborough.
The Young Horticulturist Competition's Official Partners are: Countdown, Fruitfed Supplies and T&G Fresh.