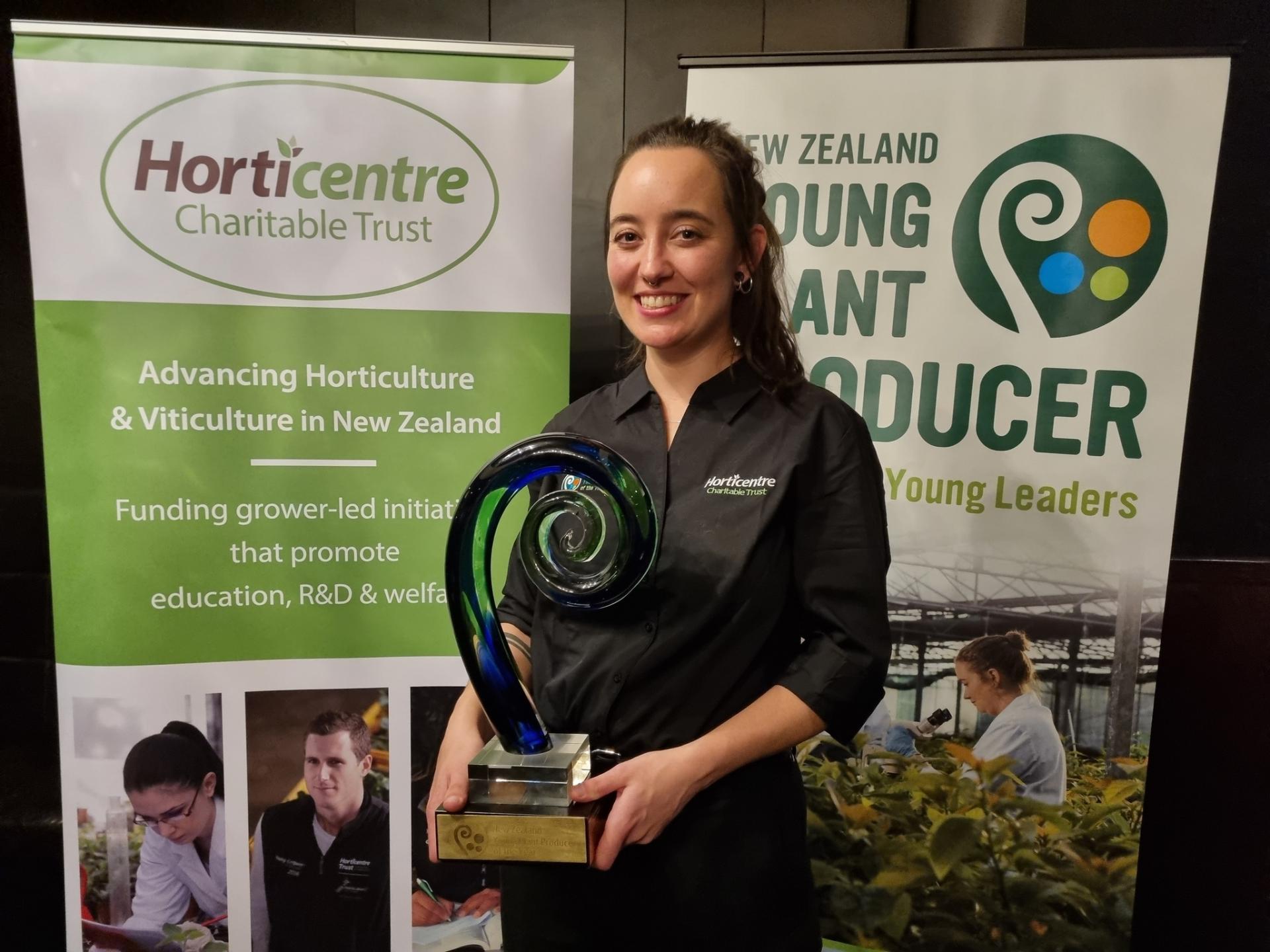 Taking a plant biology paper at university was a game changer for Lydia O'Dowd who was recently judged NZ's Young Plant Producer of the Year.
The Cantabrian - who initially began studying health science - will now go ahead to represent her sector at this year's Young Horticulturist of the Year event. Held in November each year, the Young Horticulturist Competition is a grand finale that brings together the country's best young talent in horticulture.
Lydia is head propagator at Southern Woods Nursery in Rolleston. Late last month Lydia was one of five competitors put through her paces over two days of challenges held at Lincoln University. Those vying for the title of Young Plant Producer of the Year were tested on their skills in finance and dispatch, biosecurity, plant propagation and identification, tool maintenance, agrichemical use and irrigation. Attitude and leadership qualities were also considered.
As a young student attending The University of Otago, Lydia initially thought her career path would involve people, rather than plant, care.
"In my second year of studying health science I took an extra paper, which was plant biology, and realised this is where my true interest was," she tells.
Acting upon that realisation, she applied for a nursery assistant job in Christchurch and began an apprenticeship in nursery production. She completed Level 3 NZ Cert in Horticulture in Nursery Production and took on the role of propagation supervisor. Lydia moved to Southern Woods (her current place of employment) three years ago. She began as supervisor of crop care and completed Level 4 NZ Cert in Horticulture in Nursery Production, before becoming head of propagation just over a year ago."
The 29-year-old is the latest in a line of Southern Woods Nursery employees to gain the Young Plant Producer of the Year title. She follows in the footsteps of Rico Mannall, Devin Westley and Tom Ferguson who enjoyed podium success - all finishing second at the Young Horticulturist of the Year finals.
Lydia heads a team of six – organising and training them to create new plants via cuttings and seeds. She creates and implements propagation schedules to align with the production schedule and sales targets. Semi hard wood and hard wood cuttings are propagated, put into tunnel houses and looked after during their early growth stages. Natives are the main focus and Lydia organises the collection and processing of the native seeds. She organises the agrichemical applications on site and uses integrated pest management techniques to control pests/diseases through the most sustainable methods available.
"Right now, I am exactly where I want to be. My job is so varied and rewarding, I love it" Lydia tells.
"I am passionate about sustainability and growing natives to sell on to companies that are contributing to the restoration of our natural environment in NZ. That really motivates me. We do this at Southern Woods, which is one of the many reasons why I like working here."
Along with the grand title (and trophy), Lydia has won a 12-month programme of mentorship support, plus a $4,000 fund to advance her career in plant production.
She has plans to complete a diploma in primary industry business management, acquiring skills to enable her to step into a managerial position in the plant production industry.
As for inspiration and favourite plants?
"My grandad had a farm in Christchurch, where he grew, cucumbers, tomatoes and carnations. I remember running around as a kid looking in his glasshouses – maybe that's where it all started. I was fascinated by the plants and different-coloured tomatoes. I didn't understand the bigger horticultural picture of what was going on, but recall being super interested," Lydia laughs.
"My favourite tree is definitely the Kowhai. The flowers are gorgeous, it's great for birdlife and is a nitrogen fixing species."
In Auckland on November 7,8 Lydia will compete against finalists from the NZ Young Horticulturist Competition's other sectors. The sectors are: Young Grower of the Year (Horticulture New Zealand Fruit & Vegetable Sectors); Young Amenity Horticulturist (New Zealand Recreation Association); Young Landscaper of the Year (Registered Master Landscapers New Zealand); Young Viticulturist of the Year (New Zealand Winegrowers); New Arborist (New Zealand Arboriculture Association Inc); Young Florist/Flower Grower (FLONZI Florists and Flower Growers NZ Incorporated); and Young Plant Producer of the Year (New Zealand Plant Producers incorporated). All will vie for the title and a prize pool worth more than $20,000.
Last year's winner was Regan Judd, a Napier orchard sector manager; with viticulturist, Sam Bain in second place.
The competition's Official Partners are: Countdown, Fruitfed Supplies and T&G Fresh.